What does skinny taste like? Just ask Gina Homolka. For six years, low-fat foodie Gina Homolka has been satisfying the tastebuds of a loyal following with her Skinnytaste blog. Her recipes reflect her own eating philosophy — delicious, healthy, seasonal dishes that also just so happen to be low in calories and fat. This month she debuts The Skinnytaste Cookbook: Light on Calories, Big on Flavor.What inspired you to start your blog, which has now spawned a cookbook?
I was trying to shed a few pounds and started experimenting with lightening the dishes I loved to make. I shared them on my blog as a way to keep track of my experiments, but I also loved the creative aspect of learning how to make the photos I took of my food look beautiful. I never imagined the blog would grow as big as it did, but once I started getting emails from people telling me how much I was helping them with their weight loss journey, I knew I couldn't stop!What's different about your approach to low-fat, low-calorie cooking?
Back when I first started blogging, most of the low-fat, low-calorie recipes I found were full of processed foods, artificial sweeteners and fake fat-free ingredients. I wanted to eat real food!When one person in the family is on a diet, it can be hard to make meals that satisfy everyone's needs. What's your secret for doing that?
If you put a healthier spin on the foods your family loves, they won't even realize they are eating lighter and healthier. They'll just think they are eating great tasting food! That's how I cook in my house.What are some of your favorite ingredient substitutions that help you make recipes lower in calories and fat—but still taste delicious?
In my Double Chocolate Chunk Walnut Cookies I swap the butter for avocados and I swear you can't tell! Fruit purees are also a great way to cut back on butter when making muffins and quick breads. Instead of pasta, I'll use zucchini 'noodles' or spaghetti squash. And I like to substitute Greek yogurt for mayonnaise or sour cream in dips and spreads.Everyone complains that they don't have time to cook healthy meals. What are your best tips for making family meal prep easier and faster?
Two things — first, invest in a slow cooker. There's nothing better than coming home from work to a meal that's been simmering all day. The second thing is to make a few meals on the weekend that can be frozen and eaten on a busy weeknight. I like to freeze them in individual portions so I only defrost what I know we'll eat.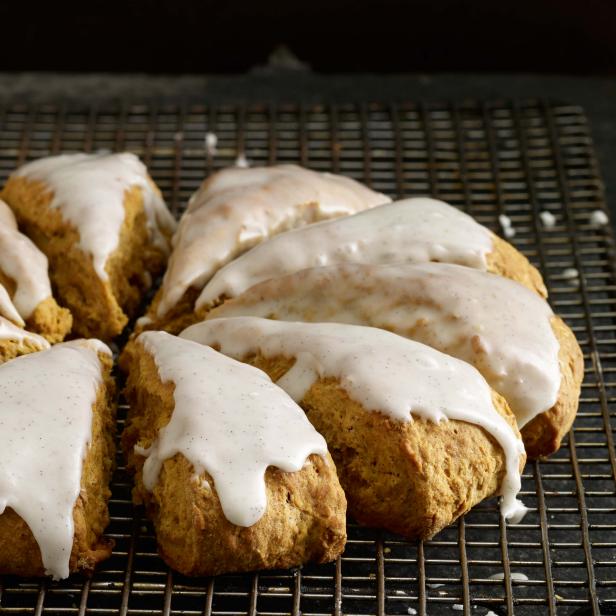 Pumpkin-Obsessed Vanilla-Glazed SconesMakes 12 scones
These light and fluffy buttermilk scones — made with pumpkin puree, fall spices, and a vanilla bean glaze—will warm up your home and fill it with an intoxicating scent that no fancy candle can come close to replicating. I've lightened these up substantially by using low-fat buttermilk instead of cream and replacing some butter with pumpkin puree. They taste just as good as any scone you would buy in a fancy coffee shop with half the calories.
Apkmusk