A pile of creamy cauliflower mash sets the stage and then gets tucked in by those smoky greens before finally getting piled high with a mound of aggressively seasoned, salty, juicy shrimp.
Do you even hear me? Leave work immediately. Pack the kids in the car. Go to the grocery store. Make this your life's mission.
It is peak cozy, nutritious, and cool-weather wonderful.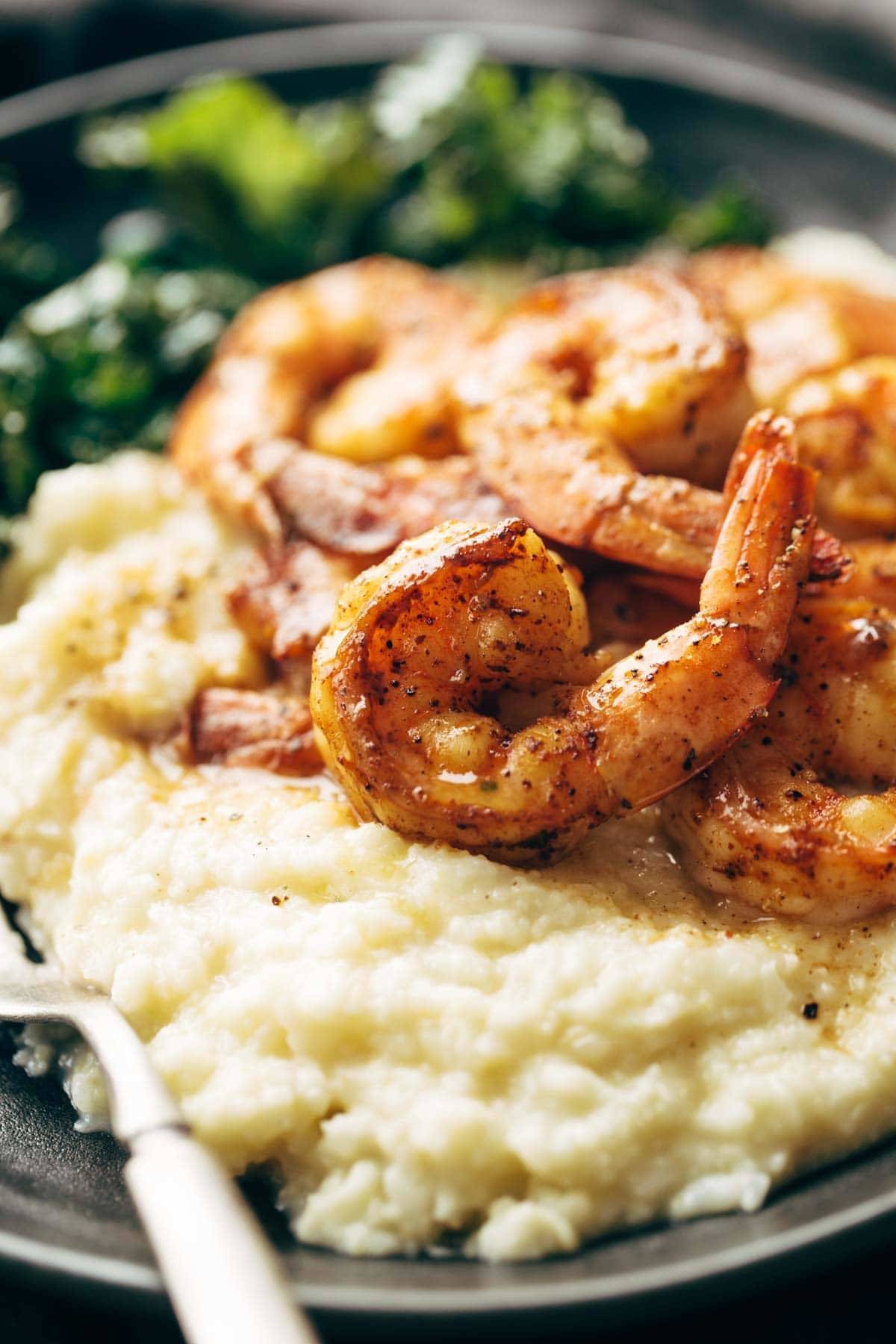 Let's Talk Kale and Bacon Fat
Let's break this down, because shrimp is straightforward, and cauliflower mash is mostly reasonable, but when I say smoky garlic kale, what I really mean is KALE or KALETTES (!!) sautéed with garlic in a little knoblet of bacon fat.
That adorable thing would be called a kalette: a cross between kale and brussels sprouts. I bought mine at Super Target, so it would appear that we regulars have access to these little wonders without a trip to any special grocery store (but regular kale works, too).
Related – that knob of bacon fat that I mentioned? The one that makes the greens especially delicious? It's something you should just do, like, regularly.
I keep a little container in my fridge – it's called the Fat Trapper – for bacon grease! Almost any recipe can benefit from a little depth and smoky-rich flavor. Just swap some butter or oil with a little bacon fat. This is one of my favorite easy little cooking hacks. Every time I do this, people go above and beyond in their food compliments. Because people may not know it, but they do, in fact, love bacon fat.
Onto The Shrimp and Cauliflower Mash
The thing you need to know about these shrimp is that they really, really want you to cover them thoroughly in spices. They don't have to be SPICY spicy – they could just be very well-seasoned. But they want some kick. They want to wow you.
The other thing you need to know about the shrimp is that while you will be tempted to eat every last one of them straight out of the sizzling hot pan, you MUST exercise enough self control to get them on the plate, tucked between your garlicky greens and your creamy cauliflower mash. It is really the combo of all three of these wonders that makes this a repeat-dinner-winner.
And that cauliflower mash? Easy, creamy, comforting, *mostly* healthy, and so, so good.
Apkmusk